S.U.I.T. Fund
Main Content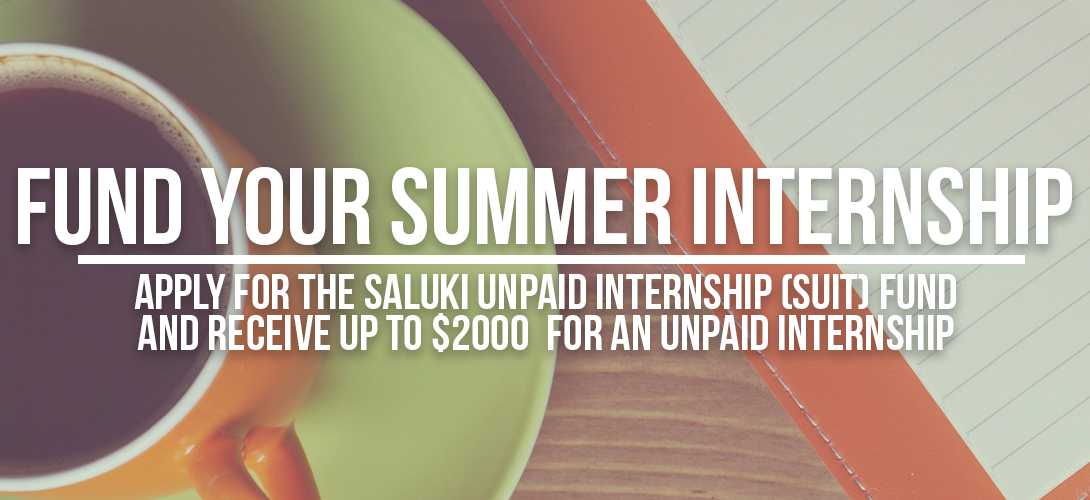 GENERAL INFORMATION
Students interested in participating in an unpaid internship during the Summer may be eligible for the Unpaid Internship Scholarship. The funds were established to assist students in taking internship opportunities they otherwise could not due to financial restraints. These experiences provide valuable work experience in their field of study and make students more competitive in today's job market. Scholarships are provided only for summer internships and range from $500 - $2000.
Students do not have to have an internship secured at the time of submitting their application, though it is encouraged. The Career Development Center requires students to be actively pursuing an internship or going through an application and/or interview process. Students should have a targeted internship in mind while applying which should be indicated in their application materials.
Please review the eligibility requirements before applying. Students are responsible for making sure they meet all requirements before applying. Funding is dependent on students meeting all requirements and funding will not be distributed if a student is found to be ineligible at any time.
ELIGIBILITY
Must be a current SIU Carbondale degree-seeking undergraduate student enrolled full-time in classes for the Fall 2019 and Spring 2020 semesters.
Minimum 2.0 GPA. If your GPA falls below 2.0 during the application or selection process, student eligibility will be subject to review.
Be in good standing with the university. Students on academic probation or found in violation of the Student Conduct Code are ineligible.
Awardees may only receive one Unpaid Internship Scholarship during their academic career at SIU Carbondale.
International students are welcome to apply, assuming they meet all other facets of eligibility and are encouraged to understand how the award could affect their taxes prior to applying.
Have an internship secured or be in the process of applying/interviewing for internship sites. Students must at least have a targeted internship site in mind that is indicated in their application materials.

 

You must submit a letter to the Career Development Center from your internship supervisor verifying your internship and it being unpaid by March 31, 2020.
NON-ELIGIBLE STUDENTS
Undergraduate students who have yet to acquire two full-time semesters at SIU Carbondale. Full-time is considered 12 credit hours per semester.
Graduate students are not eligible for the Unpaid Internship Scholarship.
Students currently on academic probation or in violation of the Student Conduct Code
If a student is graduating in May 2020, he or she will not be eligible for the Unpaid Internship Scholarship
Exchange students and or non-degree-seeking students
INTERNSHIP QUALIFICATIONS
Internships must take place during the Summer.
Internships must be unpaid to qualify for the Unpaid Internship Scholarship. Stipends to assist in offsetting internship costs do not necessarily disqualify a student but may reduce the amount of eligible aid.
The internship experience must be at least 8 weeks in length or 160 hours.
Unpaid practicums, clinicals, or internships that are part of a program curriculum are not eligible as part of this program.
Internships cannot be for credit, including an elective in the student's program curriculum.
Internships must take place outside of the SIU Carbondale campus.
SIU Carbondale Faculty and Staff cannot be listed as the internship supervisor.
Internships must be supervised by someone with enough relevant experience to ensure the integrity of the educational experience.
Internship sites cannot be family-owned or directed.
Students who have previously received an Unpaid Internship Scholarship may not apply.
INTERNATIONAL INTERNSHIPS
International internships must be in a country that the U.S. Department of State qualifies as a Travel Advisory Level 1 or Level 2. Unpaid Internship Scholarship applications will not be considered in countries that are at a Travel Advisory Level 3 or Level 4.
Please note conditions can change quickly in a country at any time. Please see the following website for updates on travel advisories: travel.state.gov/content/travel/en/traveladvisories/traveladvisories.html
DISQUALIFICATION
The application is submitted after the deadline.
Inaccurate information is provided on any application materials.
A student is placed on academic probation or is found in violation of the University's Student Conduct Code.
The internship is unsupervised or within the SIU Carbondale Campus.
The internship location is owned or operated by a family member.
A student transfers or withdraws from SIU Carbondale during the application process and during the internship.
A student fails to meet the requirements of the internship.
APPLICATION MATERIALS
All application materials are to be submitted via Academic Works
A resume that has been certified by a Career Development Center staff member.

 

Please schedule an appointment with us by calling us at 618-453-2391 and indicating the resume review is for the Unpaid Internship Scholarship.
1-2 page written proposal that addresses the following areas:

What type of internship are you seeking or what internship have you already secured?
Why is participating in an internship important to your current career goals?
What skills do you hope to develop during your internship experience?
How would this award impact your ability to participate in an unpaid internship?

Signed Waiver

 

– please submit this electronically as part of your scholarship application materials
Letters of Recommendation (2) - These must be from academic or professional individuals.
Budget – Please follow the

 

provided budget sample (PDF).
POST-INTERNSHIP REQUIREMENTS
Complete an evaluation of your experience that will be emailed to you at the end of your internship.
Submit a final evaluation from your internship site supervisor.
Submit an image of you on-site working at your internship (if permitted).
Submit a minute-long video clip sharing your experiences at your internship. Please see the

 

SUIT Fund Video Guidelines.
Send a thank you letter to your internship site supervisor.
REVIEW PROCESS
The Career Development Center will compile all applications, removing identifying information such as student names or ID numbers. Completed applications will be distributed to SUIT Fund Committee members who are outside of the Career Development Center for review of applicant submissions. The SUIT Fund Committee members are comprised of faculty and staff. Each submission will be reviewed by three separate readers by use of a rubric. Funding will be given to top-scoring submissions and is based on funding availability for the year.
FUNDING DISBURSEMENT
Applicants who have been selected as recipients of the SUIT Fund will have awards disbursed to their SIU Bursar Account. If there are outstanding balances on your account, please note the award will apply to the outstanding balance. Students will receive reimbursement based on the SIU Bursar schedule.